Fighting Foreclosure? Open a Haunted House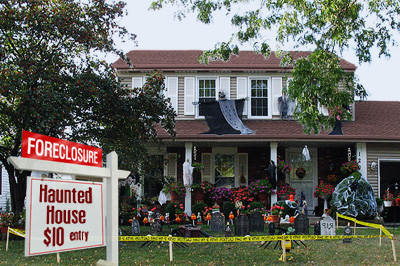 Ghoulish apparitions, the undead, and bloodthirsty monsters used to send shivers of fear down our spines around Halloween. But, if you're a homeowner, you've undoubtedly become rather blas� about these sorts of things because you're facing down the most terrifying of demons: foreclosure. For those of you looking for a good fright, the state of the housing market is a excellent start. In the third quarter of this year, foreclosure filings were up 71% from the same period in 2007. That's enough to elicit a bloodcurdling shriek from any homeowner with a mortgage.
So, yeah, things are bad; you probably already knew that. Here's what you don't know: homeowners, you can shamelessly exploit Halloween to your advantage and get yourself off the Foreclosure Express. How, you say? It's simple -- turn that soon-to-be-foreclosed-upon home of yours into a haunted house. Haunted houses, of course, charge admission, and that's money you can then use to keep up on your mortgage payments. Brilliant! We're even going to give you pointers on how to do it.
Turn That Money Pit into a Moneymaker
Converting a home with frightening mortgage payments into a just plain frightening home is surprisingly easy. Almost anyone can do it. Case in point: a gaggle of teenage boys in Sylvania Township, Ohio, built a 2,000-square-foot haunted house in their backyard. If a bunch of pubescent males from Nowhere, USA did it, you can, too. Here is a breakdown of the basic steps:
Task #1: Make the exterior spooktacular. The basic premise here is that you want your home to look haunted to prospective customers, or "visitors." Windows have the singular effect of making a house look suspiciously unhaunted, so you'll want to black those out from the inside somehow. Black trash bags work well for this task. Now about those porch lights -- change the bulbs to red or orange or go with a black light. Use heavy-duty paper to decorate your front door to look like a coffin. You'll also need to do something about that Brady Bunch picturesque yard of yours. The best way to make a yard look Halloweenesque is to buy some of those cheap Styrofoam headstones you can probably find at the dollar store. Finally, don't forget the audio effects. You want weird organ music or an eerie noise soundtrack blasting from discreetly positioned speakers at all times.
A frightening foyer. The first thing your visitors see when they walk inside your house will set the tone for the rest of the tour, so you will want to go all out here. A dead body is a must, preferably hanging from a chandelier or a similar object. You can stuff old clothes to make the body and decorate the bottom of a bleach container for the face. Artificial fog is a staple of all impeccably haunted homes, so you may want to round up some dry ice or see if any of your rock star or roadie friends have a fog machine you could borrow. Blood, detached body parts, and spider webs are also nice little touches for the entrance. To help guide your visitors, you can block off the rooms, hallways, or staircases that aren't part of the tour with black garbage bags or cheap black shower curtains. For added shock value, you might recruit one of your friends to spritz your visitors in the face with water when they walk in. The goal is to startle and awe to get them in the mood for the rest of the tour.
The rest of the house. The remainder of the house mainly hinges on the artistry of your ghoul assistants. You can position your costumed helpers behind off-limits doors that you have disguised with decorations, so the ghouls/monsters/what-have-you can leap out and startle your guests easily. Another little delightful fright you can provide along the way is to peel back grapes and use them as eyeballs. Strategically place them throughout the tour in places you know your visitors will have to touch. The key for a successful haunted house tour is to appeal to as many of the guests' senses as possible. For an added tactile effect, you can have your visitors walk through spider webs made from stretched cotton and/or hang wet yarn from the ceiling in dark places. Slimy string-like objects feel especially creepy when your visitors have no idea what they are. If you can get a black light in each of your rooms, then you can make decorations pop by using black light sensitive materials. Otherwise, you can just change the bulbs to different colors or use strobe or colored flood lights in strategic places.
Do a walk-through. Go through your haunted house as if you were a visitor. Fill in any gaps with extra decorations and remember your goal of appealing to as many of the five senses at once as you can. Map out a plan with your ghoul assistants and do a practice run to make sure they know when and where they are supposed to appear. If your ghouls are in good shape, all the better because they can add to the suspense by chasing after guests once they pop out of their respective hiding places.
Advertise. Make up signs that advertise your haunted house and put them up in and around your neighborhood. You might even hand out flyers at an event or at a Halloween store. Use billboards, the Internet, mass texts, or whatever you need to do to get the word out. You could even appeal to a nobler purpose by embellishing the truth and saying that the proceeds go to charity. No one has to know that you are that charity.
Set Admission Prices & Rake in the Dough
Your haunted house is all set up, you've done your marketing, and now all you have to do is set an admission price and open your house up for business. You may be able to get away with charging more as it gets closer and closer to Halloween because people are more in the mood for fear. After Halloween is over, count your profits and get ready to celebrate because you can make your mortgage payment. . .at least for this month. But remember there are always the ever-popular Thanksgiving-themed house tours, Santa's workshop tours, Valentine's Day love canal rides in your pool. . .the possibilities are endless.

* Updated Jun 7, 2012